The inReach device to Marine Traffic AIS via satellite is operational.
Provided to you for free, with no support and no guarantee to work.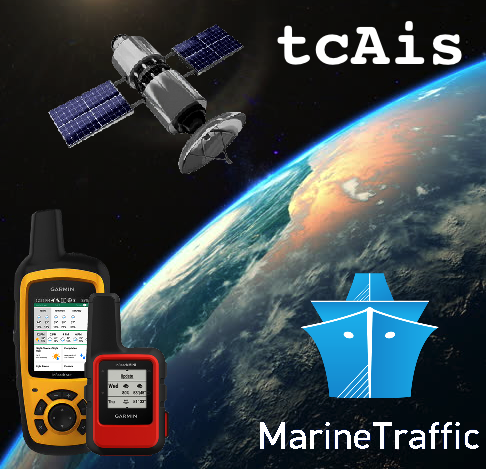 tcAis

Update your AIS location on MarineTraffic.com from your Garmin inReach device

FREE SERVICE &nbsp &nbsp &nbsp &nbsp SIMPLE TO USE









HOW IT WORKS

Your inReach sends an email to tcAis where a program periodically reads the Inbox and looks for your MMSI number, Longitude, Latitude, and UTC time. Then, tcAis sends a message containing this information to Marine Traffic.



If you own a Garmin inReach device, you can use tcAis by following the steps below:


STEP 1
Get an MMSI number for your boat

If you already have an MMSI number, ignore this step.

An MMSI number is a unique identifier for the AIS system. You will need to have this number to use any AIS services. For more information on the AIS system, refer to AIS on wikipedia.

Go to marinetraffic.com and register to obtain an MMSI number for your boat; you should be able to get this for free. You can also install the Marine Traffic App on your mobile device and obtain an MMSI number there. Follow the directions here.




STEP 2
Add the tcAis message to your inReach


Log on to your inReach account, under Preset Messages, click Edit, and enter:



MMSI=123456789


The MMSI entry must look EXACTLY like above, but replace 123456789 with your own MMSI number.

In the field immediately below, enter the tcAis email address:



tcAis@transitionalcontinuum.com


Click Done.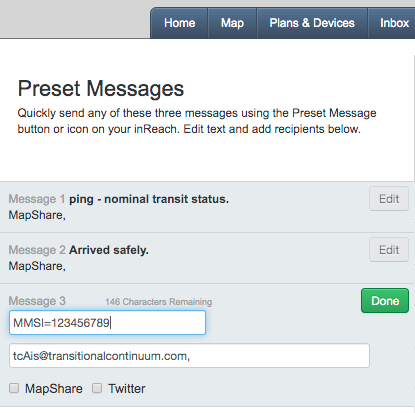 STEP 3
Sync your inReach



Sync your inReach to transfer the tcAis preset message.







YOU ARE READY
Send your location to marinetraffic.com

On your inReach device:

Go to Preset messages
Select the tcAis MMSI message
Click SEND --- DO THIS ONLY FROM YOUR VESSEL ---
IMPORTANT NOTE

Depending on your subscription plan with Garmin inReach, you may be charged for each message incurred from using tcAis.

WARNING: tcAis comes with no support and no guarantee to work. Do not rely on tcAis.


CONTACT


support@transitionalcontinuum.com


Locations

Boulder, CO
Sarasota, FL
Québec, Canada